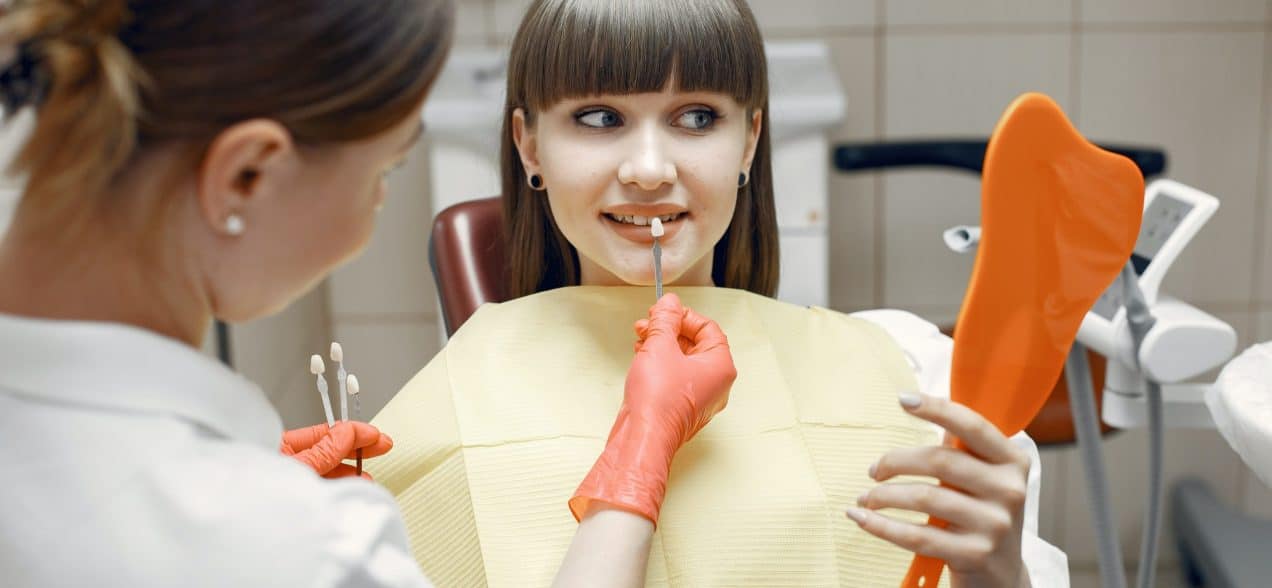 Do you have broken, chipped, or discolored teeth? Then dental veneers may be the right treatment option for you. Dental veneers have become a popular restorative procedure for anterior teeth due to their high aesthetic outcome and long-term predictability. This procedure can be artistically combined with other cosmetic dentistry treatments to achieve more complete results.
Big Smile Dental understands the value of healthy and beautiful teeth, which is why we provide a variety of cosmetic dentistry services, such as porcelain veneers, Invisalign, and teeth whitening, among other dental care services to help you achieve the straight, healthy, and beautiful smile you've always desired.
Dental veneers can cost as little as $400 to as much as $2,500 per tooth. Composite veneers are the most affordable option, ranging from $400 to $1,500 per tooth, whereas porcelain veneers range from $925 to $2,500 per tooth.
This article will explain what this dental treatment includes, how much it costs, and how to pay for it to help you better understand what to expect.
What Are Dental Veneers?
Dental veneers are tooth-colored shells attached to the surface of teeth to improve their aesthetic appearance. They are generally made of porcelain or a resin-composite material and are permanently bonded to your teeth. The most common type of veneer is made of porcelain because it is long-lasting and closely resembles the appearance of natural teeth. Other types of veneers include ceramic veneers, composite veneers, and Lumineers.
Veneers can be used to treat a range of cosmetic concerns, such as discolored (yellowed teeth), chipped, broken, smaller-than-average teeth, or misshapen teeth. And while some individuals may only need one veneer to repair a broken or chipped tooth, many require six to eight veneers to achieve an even, symmetrical smile. The aftercare required to maintain oral hygiene for porcelain veneers is the same as that of natural teeth.
How Much Do Porcelain Veneers Cost?
The cost of dental veneers can vary depending on your condition, the amount of prep work required, the type of veneers you wish to have, the location of the dental clinic, and the skill level of the cosmetic dentist performing the procedure. As a result, the average price of veneers ranges from $900 to $2,500 per tooth for a single porcelain veneer. And a full set can cost anywhere between $7,200 to $20,000.
Big Smile Dental aims to provide Chicago residents with the most affordable veneers. Please make an appointment with us at your earliest convenience for more precise estimation. We will be able to provide you with more specific pricing information and financing options for veneers.
What's Included in the Cost
Your cost for full-mouth porcelain veneers typically includes your initial consultation appointment, tooth preparation, and veneer placement. Suppose additional work such as cavity removal or gum disease treatment is required ahead of time. In that case, these costs are usually quoted separately.
In addition, we may schedule follow-up appointments to ensure no difficulties or concerns arise due to the veneer placement. In most cases, however, three appointments should suffice to complete the procedure.
Dental Concerns That Can Influence the Cost of Veneers
The numerous variables involved make it difficult to estimate the exact cost of full-mouth porcelain veneers. However, the price of veneers can be affected by the following dental issues:
Does Insurance Cover the Cost of Porcelain Veneers?
Insurance companies usually will not cover permanent veneers since they are non-medically essential cosmetic procedures. However, there are an increasing number of full-coverage dental plans that pay for procedures not traditionally covered by dental insurance, but there are a few things to keep in mind if you choose this route:
As such, if you decide to pursue non-traditional dental treatment plans, it's important to do your research to know what you're getting.
Big Smile Dental will coordinate with your dental insurance provider, so all you have to worry about is picking out your perfect smile.
How to Pay For Porcelain Veneers?
If the initial upfront costs seem high, it's important to know that affordable financing options are available. The majority of our patients don't pay the entire cost upfront. Rather, they collaborate with us to develop a convenient and manageable payment plan with the help of a third-party financing partner. Cosmetic dentistry grants, healthcare credit cards, and other options are available. We offer payment plans for cosmetic and restorative dental procedures at Big Smile Dental.
Are Dental Veneers Worth the Cost?
Only you can decide whether a full set of porcelain veneers is right for you. Full-mouth porcelain veneers may be the best option if you have healthy teeth but want a significant smile makeover. Dental veneers have a longer lifespan if they are well-maintained. Dental veneers are not indestructible, so while you can eat practically anything, you should take appropriate measures. Glass, like porcelain, can break under intense pressure. And after the permanent ones are in place, they cannot be removed and will remain in the mouth. Nevertheless, veneers can typically last between 10 to 15 years with adequate care, such as frequent dental appointments, brushing, and flossing.