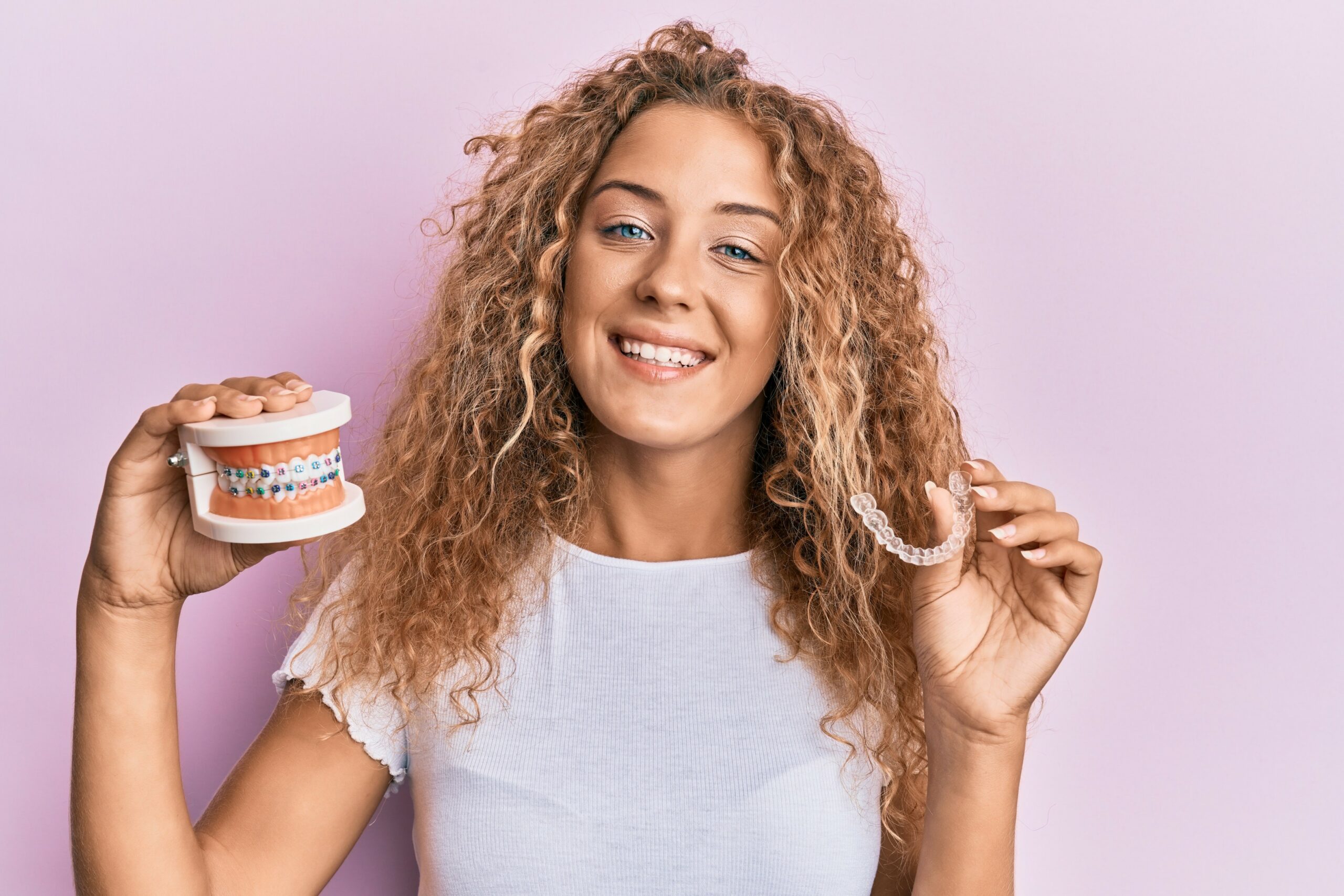 Braces are orthodontic devices used to treat abnormalities with the teeth, such as crowding, crookedness, and misalignment. Although orthodontic treatment is most common among adolescents, it is not uncommon for adults to also wear braces. Some people choose to wear braces to improve their smile, while others do so because they help straighten the teeth and align their bite.
Braces are the most widely used method for correcting children's crooked teeth and improper bites. But thankfully, they're not like the bulky, painful metal teeth of yesteryear. The range of dental braces available has expanded.
If you decide that braces are the way to go, Big Smile Dental will assist you in making the best decision. Be sure to contact us immediately if you are located in or around the Chicago, Illinois, area to schedule a consultation.
Types of Braces
Several criteria, like age and whether you have an overbite or crooked teeth, will determine the type of braces we may recommend. The design and fit of braces are tailored specifically to each patient. Patients can now select from five distinct types of braces.
Metal Braces/Traditional Braces – Braces made of metal are most common among kids and adolescents. They consist of brackets or bands that fit around each tooth and flexible wires called arch wires that keep the brackets or bands together. Some braces incorporate rubber bands or metal ties that connect the brackets to the wire. The wire is gradually tightened over time to assist in the realignment of the teeth. From a rainbow of rubber bands, kids can choose their own hue.
Some parents and patients prefer metal braces over removable transparent aligners like Invisalign since they don't need to remind their children to wear them constantly. However, metal braces necessitate care and maintenance, and good dental hygiene is required during treatment.
Ceramic Braces – The brackets of standard braces are now also produced from tooth-colored ceramic, making them less noticeable. They perform the same role as metal braces but are more discreet and less intrusive. Ceramic braces are most popular among patients who do not believe Invisalign or lingual braces are the best option for them but still want to straighten their teeth discretely and affordably. You should be aware; however, that ceramic braces are slightly larger than traditional metal braces and can discolor depending on your eating and brushing habits. They are not for everyone, but they are crucial orthodontic devices.
Self-Ligating Braces – These braces are available in metal or clear/ceramic material and function similarly to metal and ceramic braces. They utilize brackets and a wire to reposition the teeth. The main difference between self-ligating and metal or ceramic braces is that they use doors or clips instead of elastic rubber ties to hold the wire in place.
We have discovered that the adjustability of self-ligating braces results in slightly reduced appointment times. Therefore they are an ideal orthodontic solution for patients who are more sensitive to discomfort, those who cannot remain still for lengthy periods in the dental chair, and those with developmental disabilities.
Lingual Braces – Lingual braces function similarly to metal braces, except that the brackets and wires are affixed to the back of the patient's teeth. If you are an adult with extensive orthodontic needs but do not want to get traditional metal braces, lingual braces may be the best option for you. While there are numerous benefits to wearing lingual braces, you should know a few things first. Due to their location behind the teeth, lingual braces might cause some patients to experience minor abnormalities in their speech (lisping is prevalent) and irritation to the tongue. These issues crop up quickly after getting braces put on, but they fade away within a few weeks as your mouth adjusts to the new devices.
Clear Aligners (Invisalign) – The use of clear aligners has skyrocketed during the past decade. Also referred to as "invisible braces," they are custom-made trays made of clear plastic that fit over your teeth. They apply pressure to gently move your teeth into the ideal positions and straighten your smile. Aligners can be taken out to eat, brush, and floss, but they must be worn for at least 22 hours daily. We may also use tooth-colored attachments to secure the aligners to your teeth. Big Smile Dental's Invisalign clear aligners can offer you a flawless smile without the brackets and wires of conventional orthodontics.
How Braces Move Teeth
The teeth are moved with braces by applying steady, prolonged pressure on them. Your jaw progressively changes shape to accommodate this pressure.
We tend to believe that our teeth are physically attached to our jawbone, making it difficult to understand how they can be moved. Under your gums, however, is a membrane covered by bone that anchors your teeth to your jaw. This membrane controls the alignment of your teeth and responds to the force exerted by your braces.
What Happens During Your Initial Consultation?
We will examine your teeth, mouth, and jaw during your initial visit. We may ask that you clench your teeth together and inquire as to whether or not you've ever experienced jaw clicking or popping.
We may then take X-rays of the mouth and teeth to determine how the teeth are positioned and whether any permanent natural teeth still need to come in. We may also take an impression of your teeth by pushing a goopy material-filled tray on your upper and lower teeth. When the mold is removed, and the material solidifies, the outcome is a duplicate of your teeth that will help us decide which treatment options are ideal for you.
Our mission at Big Smile Dental is to provide our patients with the most up-to-date, effective dental care available in the shortest amount of time. We can't wait to help you get the beautiful smile you've always wanted with the braces of your choice.
If you're interested in more information about dental veneers or other dental restorative options, call Big Smile Dental today! Our team is happy to schedule a consultation at a time that works with your schedule.
Your new smile is waiting for you!