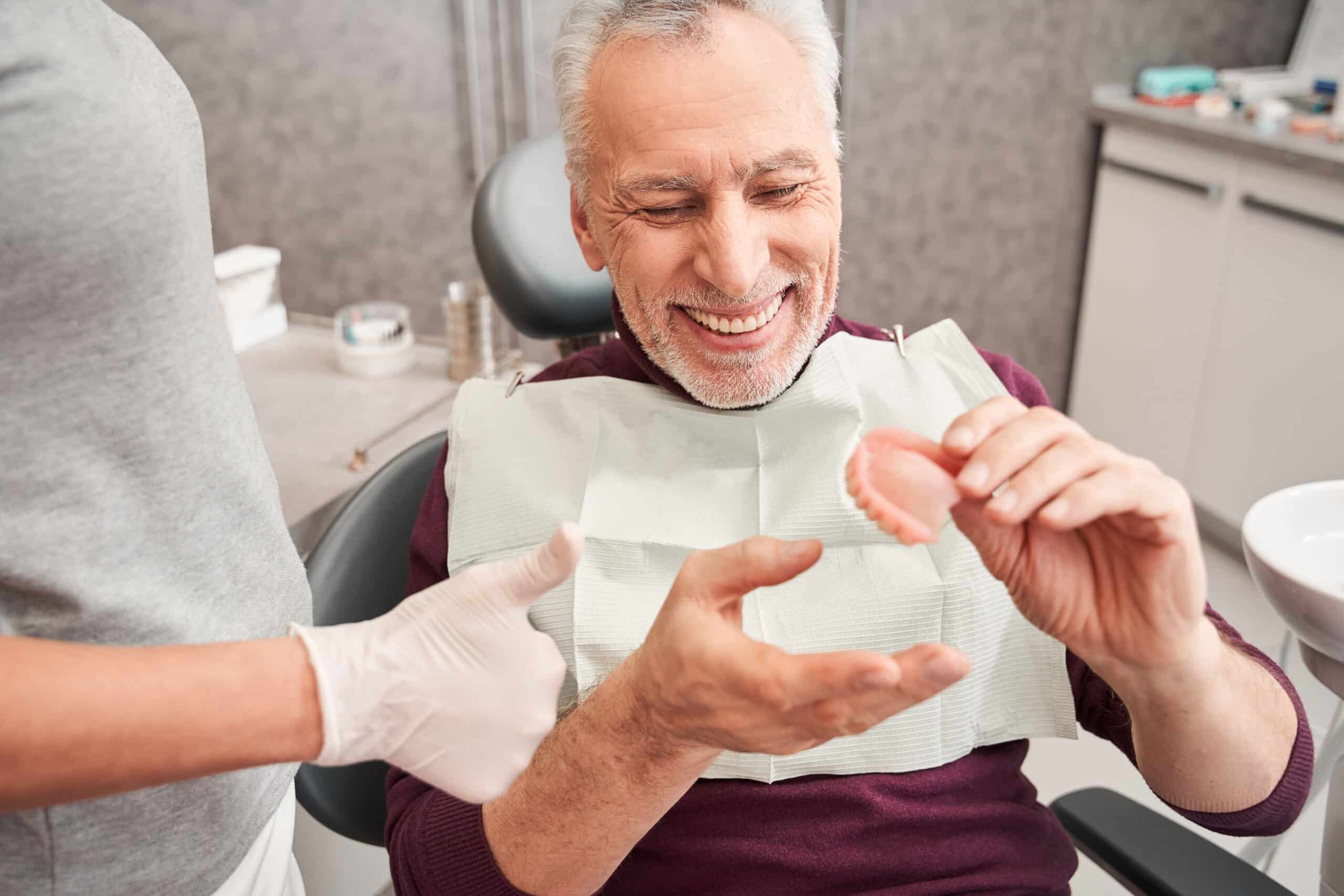 The inability to enjoy your meals or smile with ease can have a profound effect on your overall quality of life. Whether you're looking to improve your smile, regain your ability to laugh and converse freely, or simply enhance your oral comfort, affordable dentures offer a practical solution. Whether your teeth have been lost due to issues like tooth decay resulting from neglect or poor oral hygiene, weakened dental health due to medical conditions or medications, or as a result of an accident or facial injury, affordable denture can help you regain your confidence and comfort.
At Chicago's Big Smile Dental, the doctors are fully aware of the nature of your dilemma. Even better, they know what to do about it. So please don't put it off any longer, as you can't spend the rest of your days taking the sugared nuts into the pantry and attacking them with the frying pan before putting them in your mouth.
The simple answer to replacing your missing teeth is dentures. Does the word make you feel consigned to the senior citizen's section of life? If so, refresh your thinking; a denture can be a sleek, streamlined, and stylish solution to missing teeth.
Understanding Dentures
Dentures are removable replacements for missing teeth and associated bone loss. They are usually made of plastic, nylon, or metal and are designed to fit snugly over the gums to replace missing teeth and fill any gaps, which is extremely important for your oral health. Dentures can replace a single missing tooth or the entire set of upper or lower teeth and vary in size and shape to fit the jaw.
Dentures are usually fitted by an experienced dentist or a qualified clinical denture technician. The dental procedure begins by taking a series of impressions of the oral tissues that will support the denture. The dental team then gradually starts building the custom dentures and transfers them to the patient's mouth, ensuring proper fit, bite, and appearance. The patient will usually be required to meet the dentist once per week for about four to five weeks until the dentures are complete. After that, the patient will need to return occasionally during the first month after the dentures are placed to have adjustments made.
Indeed, the beautiful dentures that Big Smile Dental will create for you will require some adjustment time. Then you will require a list of instructions for putting them on and taking them off. Additionally, your mouth may feel awkwardly full and bulky for a short time. But what is that compared to the thrill of knowing that the next time you join your friends, you can devour a steak with gusto, speak with poise and confidence, and flash a radiant smile.
Trust Big Smile Dental and their team of experts to equip you with a durable, well-fitted, life-like denture that will fill the deficits and bridge the gaps in your mouth. And expect to leave Big Smile Dental not merely with a complete set of teeth but also feeling like a complete human being.
Exploring the Basics of Dentures
Affordable dentures are a valuable dental solution for individuals seeking cost-effective tooth replacement options. These custom-made prosthetic devices, often crafted from acrylic resin or a combination of acrylic and metal, offer a budget-friendly alternative to costly dental procedures. Affordable dentures can be categorized into two main types: complete dentures and partial dentures. Complete affordable dentures are designed for patients who have lost all of their natural teeth in either the upper or lower arch, while partial affordable dentures are used when some natural teeth remain in the arch. For those desiring even greater stability and functionality, the option of affordable dentures and implants is available.

Affordable dentures and implants combine the affordability of dentures with the durability and stability of teeth implants. This innovative solution involves anchoring the dentures to dental implants surgically placed in the jawbone. By doing so, patients can enjoy the benefits of secure, long-lasting tooth replacement that not only enhances their smile but also restores their ability to chew and speak effectively. Regular dental check-ups remain essential for individuals with affordable dentures and implants to ensure the continued comfort and functionality of this cost-efficient dental solution. In summary, affordable dentures and affordable dentures and implants offer accessible options for individuals seeking effective tooth replacement solutions without breaking the bank.
Different Types of Affordable Dentures and Their Benefits
Complete dentures – can either be conventional or immediate. A conventional denture is made and placed in your mouth after the remaining teeth are removed, and the gum tissues have healed, which may take eight to 12 weeks. In contrast, an immediate denture (same-day dentures) is made in advance and can be positioned when the teeth are removed. As a result, you do not have to go through the healing period without teeth. However, as bones and gums shrink following tooth removal, same-day dentures may need more adjustments to fit properly during the healing process. Hence, they should only be a temporary solution until conventional dentures are made.
Partial dentures – are usually removable dentures comprised of replacement teeth attached to a gum-colored plastic base. Partial dentures are generally used when one or more natural teeth remain in the upper or lower jaw. They enhance chewing and speech and help prevent the remaining natural teeth from changing positions.
Overdentures – also called implant-supported dentures, are denture prostheses held in place by dental implants to allow greater stability. Overdentures eliminate the problems associated with traditional dentures and offer a natural smile, ultimately improving a person's quality of life.
The Lifespan of Dentures: How Long Can You Expect Them to Last?
Dentures have an average lifespan of five to 10 years. However, this depends on many factors, including your chewing habits and denture care.
Like your teeth, dentures should be brushed daily to remove food particles and plaque and prevent the teeth from staining. Rinse your dentures before brushing them, and use a soft-bristle brush and a non-abrasive cleanser to brush the dentures' surface gently. When brushing, ensure to clean your mouth thoroughly, including your gums, cheeks, tongue, and mouth roof, to remove any plaque and minimize the risk of oral irritation and bad breath. When not wearing, put the dentures in a safe place covered in water or a denture cleaning solution to prevent warping. Although denture repair is an option, preventative care can protect both removable and permanent dentures and improve their longevity.
In addition to daily brushing and proper storage, regular check-ups with your dentist are essential to maintain the health of your dentures and your overall oral hygiene. Your dentist can assess the fit of your dentures, make any necessary adjustments, and ensure they continue to function effectively. They will also check for any signs of irritation or infection in your mouth, which can be particularly important if you have partial dentures or other dental appliances. By staying proactive with your denture care routine and scheduling regular dental appointments, you can enjoy a comfortable and confident smile for years to come.
Navigating Insurance Coverage for Dentures: What You Need to Know
Most dental insurance plans cover some or all of the cost of the denture procedure, making it an affordable option. Talk to your insurance company to determine the exact amount of coverage. Other denture financing options include healthcare savings accounts (HSA), credit cards, denture payment plans, and denture assistance programs.
Be sure to visit us at Big Smile Dental to determine an affordable denture option that works best for you. In addition, our helpful office staff is happy to assist you in filling out your insurance forms to assure that you receive proper reimbursement from your insurance carrier.
If you're interested in more information about dental veneers or other dental restorative options, call Big Smile Dental today! Our team is happy to schedule a consultation at a time that works with your schedule.
Your new smile is waiting for you!