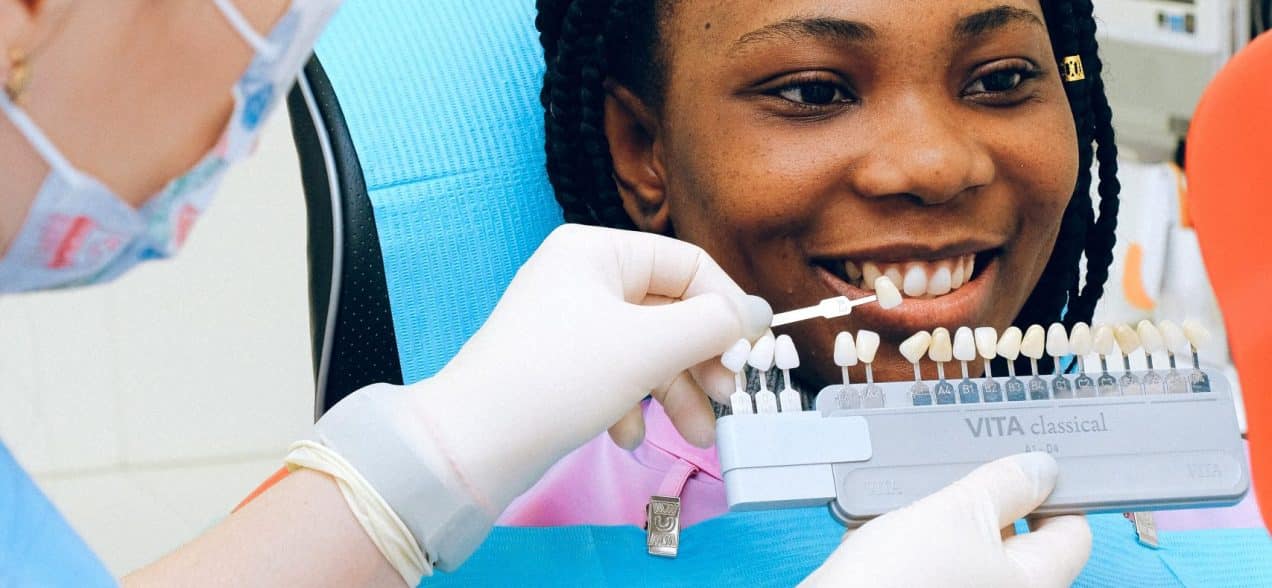 Big Smile Dental of Chicago, IL offers a full range of cosmetic dental services, from teeth whitening to full smile makeovers. One of our most requested procedures is porcelain veneers, though patients are often confused about exactly what they are and what sets them apart from other cosmetic dentistry. Here are some of the most frequently asked questions and answers.
Q . What can dental veneers do for me?
A : Veneers can address virtually any aesthetic concern you have about your teeth. This includes covering whitening-resistant stains, improving shape, changing size, correcting an asymmetrical or disproportionate smile, closing gaps between teeth, and much more. They can even improve the appearance of mildly rotated or crooked teeth, replace worn tooth enamel, and cover some minor chips or fractures. Because veneers are customized to your cosmetic preferences, they can be used for anything from subtle enhancements to dramatic changes in the appearance of your teeth.
Q . What are veneers made of?
A : Veneer simply means a thin, decorative covering. Veneers for teeth may be made of tooth-colored resin, which is like the material used for filling cavities. However, it is not ideal for large areas, such as covering an entire tooth. Here at Big Smile Dental, we use high strength porcelain, which has superior durability, aesthetic properties, and other benefits.
Q . What is the difference between veneers and crowns?
A : A veneer is extremely thin. It has minimal impact on the structure of a tooth, but it covers the entire visible portion. A crown is larger and covers all exposed surfaces. It is essentially a hollow porcelain tooth, which fits over the natural tooth like a cap. Veneers are used for cosmetic improvement or very minor repairs, whereas crowns are used to restore and protect the tooth structure.
Q . What is the difference between veneers and a smile makeover?
A : Dental veneers are a specific type of restoration. The term smile makeover does not refer to a certain procedure, but rather a highly customized treatment plan. A full makeover is designed to address all your cosmetic smile concerns and goals. Veneers are very often part of a smile makeover.
Q . What is the difference between veneers and Lumineers?
A : Lumineers are veneers. They are a specific brand, which is known for being ultra-thin. In most cases, Lumineers require less tooth preparation than average veneers, and sometimes no enamel in removed. However, other brands or unbranded veneers can also be made extra-thin.
Q . How long will dental veneers last?
A : The average lifespan of veneers is usually estimated to be approximately ten years, but the reality can be much less or more. Several factors affect the longevity of veneers, with oral health being one of the most important. You probably know that lax oral hygiene, poor eating habits, and skipping dental appointments will leave you susceptible to decay. Since veneersare adhered to the tooth surface, erosion of tooth enamel leaves them unsupported. In this scenario, veneers can easily fail within just a few years. Alternately, some people who have good oral health and take good care of their teeth may have one set of veneers for decades.
Q . Will veneers get stained like tooth enamel?
A : No. Our veneers are made from high-quality dental porcelain, which is resistant to staining, discoloration, wear, and corrosion.
Q . Will veneers protect my teeth from cavities?
A : The veneers themselves will not decay, but the teeth behind them are still susceptible. Current data indicates that patients with veneers do not have a significantly higher or lower risk of cavities. However, we've noticed that patients tend to practice better hygiene after getting veneers, simply because they love their smiles so much.
Q . I want a really exceptional smile that makes people say, "wow!" Who should I call?
A : Dr. Siegel is well-known for crafting some of the most beautiful and famous smiles in Chicago, IL with patients including beauty pageant winners and WWE superstar Summer Rae. However, you don't have to be a celebrity to be treated like one, or to have a red-carpet worthy smile. Everyone who walks through our doors is a VIP (very important patient)! If you are ready to love your smile, give us a call at 773-772-8400 and schedule a cosmetic dentistry consultation.